Lots of fun things to mention, seems like it's been awhile since the last round up.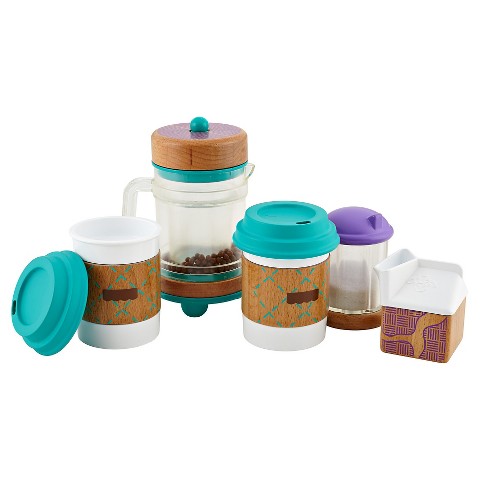 Have you guys seen Target's collab with Fisher Price? It's the cutest
wooden toys
for babies and toddlers. You can get
10% off with Cartwheel
or code
WOODEN
to save 10% for online orders.
Back in the fall,
So Cozy
reached out to see if we were interested in trying a line of their shampoo and conditioners. They sent us the
Boo!
line which is formulated to repel lice, which is something I'd rather not deal. However, what sold me is that the products are free of parabens, sulfates, phthalates, synthetic color, and propylene glycol. The main ingredients used are tea tree oil and rosemary extract, which are the key ingredients used in DIY essential oil lice repellent sprays. Honestly though, we truly love this line regardless of the nasties it keeps away. The peppermint oil in the shampoo and conditioner smells so good and we still get a great lather even though it's free of sulfates. Since using it Ashlynn's hair has appeared to be less tangled. less whispy and stronger. We've used a 'green' hair products, Honest and Burt's, on the girls in the past and always returned to Aveeno. This is definitely our new brand.
Products can be found at
Target
or
Amazon
.
I love these Pottery Barn
everyday dishes
, our's are holding up pretty well, but one salad plate recently cracked and the mugs are getting chips. Thankfully, ours are still carried by
Crate and Barrel
so it's easy to replace what we need.
Of course all the resort wear lines are coming out, just in time for a predicted foot of snow. I have a feeling when the temps do start to rise, I'll be getting this
top
in multiple colors for summer, love the bright amethyst and tropical forest.
Lastly, my "birthday present" was that I could pick out a new pair of sunglasses. My current pair, Tom Ford Jennifers, I got over four years ago. They are scratched, but they are really lightweight and comfortable. I seem to always stick to similar shapes, but I'm thinking of ordering these
Marc Jacobs
ones since the price is a steal. I would usually get the tortoise looking Dark Havana, but I keep finding myself drawn to light pink shades and think the
translucent pearl
might be a fun change.
What have you been loving lately??