Most of these purchases are for Ashlynn's room, since that's what we are focusing on at the moment. However, the first one was a pick up for Kenley's room. Pretty sure her room is now totally complete until she moves into a big girl bed.
This Nate Berkus accent table I scoreded at 50% off when Target was rolling out the previous seasons collections and bringing in the new. I always try to wait until markdowns happen and then pounce. For $29, I now have a table for Kenley's room. I had been wanting a table to place next to the chair since we started decorating her room. This matches perfect and is perfect for a stack of bedtime books .
I also picked up
a nightstand
for Ashlynn when Target had a 20% Circo furniture cartwheel offer. I wasn't sure if I wanted to go with a Jenny Lind style, but I really love the look in her room and it fits the space perfect. Not to mention, it was a good $130 less than it's Land of Nod
doppelgänger
.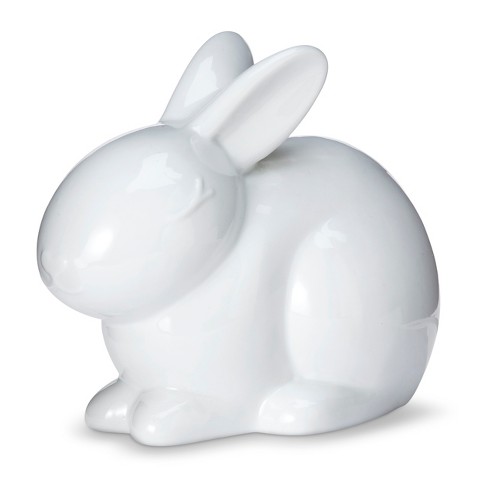 Continuing my basic suburban mom Target addiction, I also grabbed this
bunny night light
for the bunny room. It's already a hit.
I had ordered
this matching lamp shade
when I purchased A's bedding, but still needed to get an actual lamp. The table lamp in her room now is teal, so that will stay there. I picked up this
simple one
because I figured it's footprint on the nightstand would be minimal and the height would hopefully keep other things she might place there from knocking it over. It was also only $19.99. We will see how that goes in reality.
There was also a 20% off any item deal at PBTeen, so I decided to grab this
pom pom pillow cover
for Ashlynn's bed, since it had free shipping too. Aside from the carpet, we need to hang her curtains and do her closet. We are converting her closet just like we did Kenley's. Removing the doors and putting in new shelving and bars, we already threw out the sticky existing wire shelving.
And of course we purchased her bed. Thankfully I was able to cover the cost with all the baby items I sold at the
Just Between Friends
consignment sale last month, so that was a nice perk since a new
mattress
,
box spring
, and
bed frame
definitely weren't keeping the costs down on the room makeover.
Anyone else getting sucked into the Target vortex lately?