I know it's only February, but the release of all the resort wear collections are making me crave a vacation. We don't have plans for any this year, just the standard trips back home to Ocean City over the summer, but either way the snow on the ground and high winds are making me long for some warm sun and sand between my toes.
I came across
this suit
on Pinterest a few weeks ago, while it's a little much for jumping waves and digging sandcastles with the kiddos, I'm reevaluating my stance on one-pieces. I'm usually kind of meh on about them because I don't have many curves to start with, so they usually don't do me any favors. Although, I do feel a little awkward at times being the mom in the bikini. However, this one looks like it could be flattering and a happy medium between looking cute and looking modest (and hopefully comfortable too!)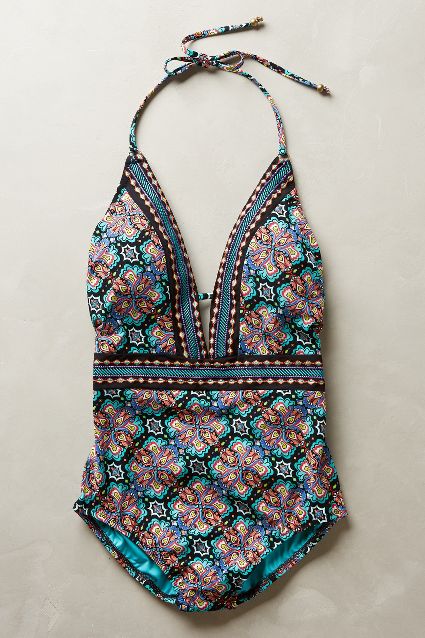 Of course, the majority of my warm weather unrest has come from all the adorable suits being released for girls. Confession time. I'm not really a fan of bikinis on baby or toddlers, more babies than toddlers, but even some of the toddler ones I see a bit much. I'm not going to stand on a soapbox about the over sexulization of young girls, if anything, it's driven more by my inner tomboy and the fact I didn't wear a two piece until I was 14 and even then it was a racer back top and boy short bottoms, but either way, it's not really for me. Of course, disclaimer, no judgement if others choose them for their little girls, I just would rather not worrying about applying sunscreen all over.
Up until last year, Ashlynn only had one pieces. ADORABLE one pieces, because as fun as the mommy suit is above, no adult looks as a cute as a little diapered bottom babe in a bathing suit. However, lesson learned. TWO pieces are the way to go when changing diapers or potty training - two things I was doing last year with K and A last summer. On top of that, the rash guard is the best way to avoid missed sunscreen and unwanted sunburn, which our Irish skin is prone to.
I loved the two piece I got Kenley last year, and again, BabyGap as knocked it out of the park with the mix print suits. However, I've seen some really cute suits all over. These Osh Kosh suits are perfect for coordinating sisters, and even look a bit like the gap styles.
And just other adorable suits, I watching for sale time and swim lessons.
I can't be the only one dreaming of warm weather, right??