Just some things I'm loving that are too good not to share...
Xhilaration Pom Pom Throw
- I originally grabbed one of these throws for Ashlynn, the purple color is (or at least ours) is more radiant orchid than purple grape (above). However, I became obsessed with how soft and cozy it is and I frequently
take
share it during her nap. While perusing Target yesterday child free (a mom's favorite getaway) I found a white one marked down to $14, not that the original $19.99 tag breaks the bank when comparing to most throws (like
this
, and
this one
is fun too)
Threshold Double Gourd Lamp Base
- Another Target steal. Planning on grabbing one for our bedroom.
Kensie 'Caitlin' Window Panels
- Seriously, curtains can be so expensive and so often when you think you are getting a deal (eh hem, West Elm) you are only getting one panel, not two. These panels, two of them, are are sale for just about $30! I'm waffling on getting them for our family room to change up the feel in there.
H&M Padded Vest
- I've been on the hunt for a new down vest. My black one is, no joke, from my sophomore year in college (eek, twelve years ago - ohmygodimold!). A friend of mine sent me the link to this one and I bought it right away. This one is definitely a little on the light side for colder climates, more for Fall or Spring, but definitely a steal. Comes in Navy too. (H&M does run a small, I got a 4).
You can also get free shipping with code 2773.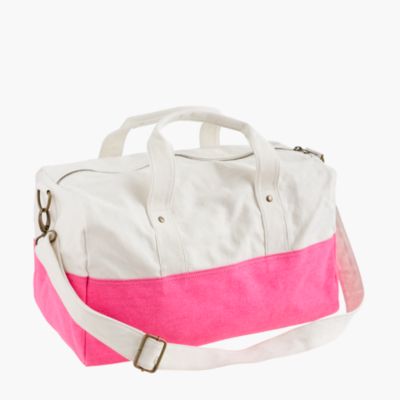 J.Crew Canvas Overnight Bag
-We received this neon colorblock tote when Kenley was born, monogrammed, as a gift from our friends. I realized the other day I don't think I ever shared it on here, but it is such a great bag. It's not a giant duffle bag, but really the perfect overnight size. Not mention a great price point, and super cute, for gifting. It also comes in navy, too!
Don't forget to use
Ebates
for cash back on at Target, Nordstrom, and J.Crew. Not a member,
sign up here
for free money back on online purchases!
What are you loving lately??