Just some little nuggets of wisdom, and by wisdom I mean random trivia that might help you at Quizzo... if it's being held at Chuckie Cheese. And a few other fun finds too!
Voice Recognition
Do you ever hear a commercial voiceover and automatically pick out who the celebrity is behind it? Like Phil Dunphy, Ty Burrell, in the Verizon Fios commercials? Well, a few weeks ago, Doc McStuffins was on and yep, there's Phil Dunphy again! Ty Burrell voiced Big Jack, the Jack in the Box who needing fixing for his father son juggling act. I thought it was funny since his TV daughter, Ariel Winter, voices Sofia from Sofia the First (
did you know that?!
) And thought maybe she got him the Disney in. Well turns out, there are more famous voices than just Tim Gunn (Baileywick) voicing the show. Keeping it in the
modern
family, Eric Stonestreet (Minimus) and Nolan Gould (Elliot) have also voiced characters. And so many others too, Sara Ramirez (Queen Miranda), Wayne Brady (Clover the bunny), Ellie Kemper (Crackle the dragon), and others like Viola Davis, Jeffery Tambor, Megan Mullally, Alison Hannigan, Ginnifer Goodwin, and Kiernan Shipka.
Who knew these already successful actors were keeping themselves busy with voiceover work for the House of Mouse?
The cast list for Jake and the Neverland Pirates is pretty impressive too!
Deals Deals Deals
Okay, this might be old news, but I love finding as many deals as I can before buying things online. I always first check if the retailer is on
Ebates
, so I can shop through there for quick cash back. Typically, Ebates shows all the current coupon codes being offered as well, and I usually do a quick check on
retailmenot
for any other hidden finds. Then, before pulling the trigger, I double check on
shopstyle.com
to see if the item is being sold elsewhere for less.
You'd think that'd be enough, but I just found out about
CamelCamelCamel
. Do you know about CamelCamelCamel? No? It's a site that tracks all the prices for everything (almost everything?) on Amazon. You can import your wishlists or just enter the product url and you will see the past price history, when it's fallen and peaked, and you can set email alerts for when prices drop to your desired price. Pretty amazing. Again, maybe this is old news, but if you need me I'll be watching prices shift pennies like it's 2003 and I'm in a bid war on eBay.
and some other recent
fun finds
...
The
Brother XL2600I Sewing Machine
is currently on sale for $79.99. It's retail price is $149.99 (47% OFF!), however, it's a bit misleading as it generally floats in the $100 range on Amazon, but it's still a great deal for a great machine for beginners. It's the one I have, and learned on, and I have found it really easy to use and it rarely gives me trouble. The one time I had trouble when I was first learning, I was quickly found my solution with a youtube search. I would definitely recommend it for anyone looking to take up sewing.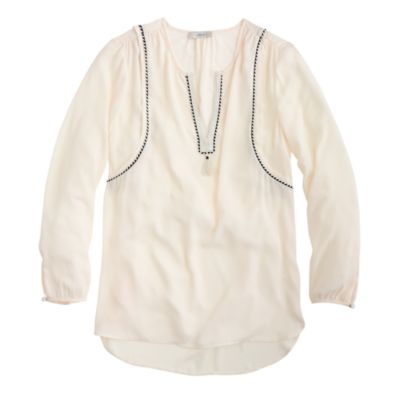 This
Tassle Trim Top
(shared by
Natalie
) is on sale for $34.99 and you can get 50% off the sale price with code
ENDOFSEASON
. I mean, $17.49 for a J.Crew blouse?? Yes, please.
Lastly, this
Melissa & Doug Medieval Castle
is basically half price and super cute. We recently had a play date where one of Ashlynn's friends, a boy, was loving playing with her princess castles. After they left I searched for some non-pink options and found this one. I love that it's almost a "dollhouse" and opens up so boys AND girls can play with knights, princesses, dragons, horses, you name it. Melissa & Doug always knock it out of the park for toys that are gender neutral and fun for everyone.
(...and if you have
Amazon Prime
and want the free two day shipping, let them know you found it cheaper elsewhere and they'll price match!)
Any random nuggets or finds you'd like to share?? Let me know, share the wealth... or savings.