Today is the last day to enter the
ZoZu Baby Giveaway
!
It's also the last giveaway for headbands and bows you'll be seeing for awhile, but don't worry girl moms, I'm planning a mega bow giveaway in the future, but I think we all need some giveaway diversity around here. So with that said, I lined up a few of my favorite shops from Kenley's nursery and will be having some great giveaways this March! Get excited, because I am :)
While there isn't a single thing I think I'd change about Kenley's room, I'm itching to update Ashlynn's. I'm trying to hold out until we switch her crib to a toddler bed to make sure her new bedding and new decor mesh, but I'm already getting all sorts of ideas.
If you are looking to update your little one's room, play space, or even for unique and rustic pieces for your home, you have to check out
Dette Cakes
etsy shop. I have always been a big supporter of small handmade businesses, there is just something so special about getting a custom item hand made for you than buying something from a factory off a shelf.

Mike and Kelly are a husband and wife team making one of kind palette letters and art. Initials, names, ampersands, and geometric arrowheads. I love the options that can be made with these letters from names in the nursery to wash room pieces.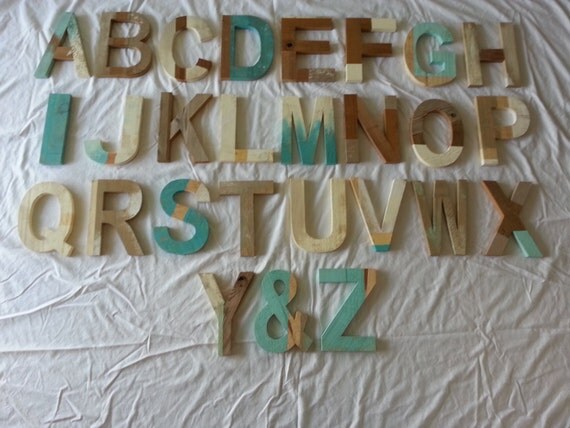 And naturally, Kelly makes some adorable bows too!
Right now,
Dette Cakes
would like to offer Strawberry Swing and Other Things readers 10% Off with coupon code
DetteCakes
.
Happy Shopping!