I had a few questions after this weekend's video post, so I thought I'd do a little follow up to talk about our "learning environment" a bit.
First. I am not a teacher. I went through a long phase where I always assumed I'd go into teaching after having children, but as I am now having children, I don't see that happening... I think. However, I do like to try to create a home where my child (and future children) can be inquisitive, explorative, and have full use of their imaginations. My brother and I had crazy imaginative play as children and I want my kids to be just as creative.
However, when it comes to learning the ABCs and 123s, I'm really no genius parent other than singing the alphabet and pointing out letters at obvious opportunities - like spelling Ashlynn's name on her personalized blanket and chair or counting out toys and blocks with her on occasion.
As for her animal sounds, the video actually surprised me a bit! We've only broken out those flash cards maybe 3 times or so, and usually they just end up strewn across the floor where they end up becoming a makeshift slip and slide. We received the
Baby Genius
flashcards as a gift at her birthday party and I believe they came in a package deal with other Books, CDs, and DVDs we got with them. I think most of her noise knowledge has come from books and I haven't really realized how many she had.
It seems the majority of our books, or at least our current favorites, are centered around animals. I also have a tendency to add on to the stories. For example,
In
Are You A Cow?
Instead of just reading, "are you a sheep? no." I usually add in each animals noise, "are you a sheep... do you say 'baaaa'? no? okay." We also do this with
Moo, Baa, La La La
,
Old Mac Donald had a Farm
,
Touch and Feel Animals
and
Wild Animals
,
Ten Little Lady Bugs
(
"... along came a frog - ribbit, ribbt"),
and of course Dear Zoo.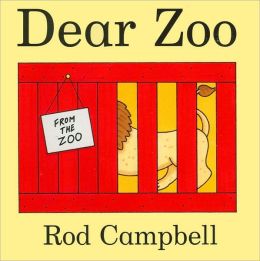 Dear Zoo
is definitely where she learned to associate the roaring with the lion, she loves getting to that page and flapping down the cage and roaring at the lion. She got the elephant from watching me make the noise every time she handed me her little stuffed elephant, she used to bring it to me just to get me to make the noise - over and over.
So parents of toddlers, share! What do you do to encourage learning in an "at home" non structured environment? Any fun ideas for colors, shapes, counting? Spill it!