I hit up the Anthro Tag Sale today at lunch. Most of the sale goods were in the tent outside, and it was hot! So I tried to make my way through as quickly as possible. It's been a while since I stopped over at Anthro, so it was nice to see lots of new things (even if they weren't really
that
new)...
Once inside I grabbed some of the items I've been loving online to try on as well....
....no fitting rooms pics, so ultimately here's my haul with some notes!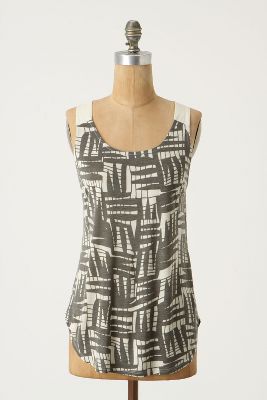 notes: I previously read in online reviews that this top came up high, and if your really busty you might feel the same. As someone who is not well endowed, I didn't notice it and I actually like that I won't have to worry about a gaping hole between my chest and where I don't fill out the top when I bend over. Not much else to say, other than it was a great sale purchase, definitely plan on wearing this on the weekends with shorts or even to work with a cardigan over. Never would have paid full price ($58) for the quality, it's rayon, but its comfy and a cute top for sale price.
That was actually it for me Sale Purchases....

The Gathering Tank
- $48
notes:
Last year, I missed out on the Molded and Melded Tee in this same color and the similarish Climbing Cowls didn't fit right. This top fits great, definitely fitted in my XS, but I prefer it that way. It also comes to the top of my jeans, so it's not obscenely long like a lot of Anthro's tops. The color is so saturated, I can't wait to wear it next St. Patty's Day (and of course, a lot in the mean time). It's perfect for layering under cardis or blazers, or on its own in the summer heat. 100% cotton.
These Deletta style tees and tanks are one of my favorite things that Anthro offers, they are usually at the lowest price point ($48) and are just so unique from anything else you'll find in other stores. They are casual, well made, and while not super special, they are just always a great staple to add to your wardrobe.
Wreathen Blouse
- $78
notes:
100% cotton, and has a bit heavier weight (I believe the tag says Indian cotton) to it that I like, makes it feel more expensive. I took my true size, XS, and it fits lovely, hitting just around or below my hip bone or over my belt loops on my jeans. It has two darts in the back to keep it from fitting really boxing. I'm in love it, was definitely a full price purchase for me with no regrets! (oh, obviously it's sheer/see through... wear over a cami)
You check out the sale? What was your damage??