I've developed a new obsession readers, I'm obsessed with Dogeared Necklaces!...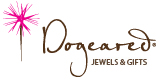 I believe I saw some necklaces a couple of years ago at a local boutique near their register. I thought they were simple and cute, and as a sucker for throwing in something small at checkout (
dammit sephora and your sneaky mini sized items to peruse while waiting in the always there even-at-11am-on-a-Wednesday line...oh, new mascara for $9, sure!
) I passed because "throwing in" a $54 necklace wasn't really an add on.
Then of course, I stayed into my chunky plastic beaded and ribbon
and
bibbed styled
I'm-making-a-STATEMENT-for-heaven's-sake
necklace phase, so grabbing a dainty sterling silver or gold dipped charm necklace wasn't anywhere on my wishlist. Plus, I still have my little collection of Tiffany silver necklaces that I collected through high school and college if wanted to venture back to the simplicity look...
However, my interested was reignited when I fell for this
sweet necklace on etsy
... unfortunately, after posting about it, it sold out! So I did some online shopping and found some similar items. I looked over the ubiquitous in 2008
Nashelle
initial stamped necklaces... because even though their popularity as a trend has dropped, Liz Lemon still rocks hers every Thursday and dammit, it still looks great as a classic staple piece..
blerg!
...but, I already have my
Ritzy Misfit Initial Stamped E
, and well.. I wanted something different. I looked at a Dogeared, but never made a purchase...
Since then, I've been drawn back to their website (although they sell their items at boutiques and stores like neiman marcus, zappos, endless, and asos) and find myself being drawn to their necklaces' messages whether for Luck, Karma, or the Journey. After seeing a girlfriend of mine wearing the Karma necklace I knew I had to finally grab a unique one for myself...
Wisdom, Longevity, and Acceptance
wear as a daily reminder. jade attracts loyalty and brings health, luck, and success.
Call me crazy for loving a gimmick, but the message and karmic energy is something I'm looking for right now and I really think that's what makes this company's items so different. I love the different messages and reminders they can be for the people wearing them.
Do you like simple charm necklaces or is the bigger the better? Any brands you have become loyal to or just love their message or mission?
**also note: aside from 5% Cash Back with Ebates, get 10% off any purchase with SPRING2011 at checkout. Free Shipping on orders over $100, and daily Flat Rate $7 shipping**