Well, my birthday was the 1st, and today is the 24th. I've been holding out for any killer new arrivals that I just had to have, but alas, nothing was a major MUST BUY NOW. So since the discount card is only good for an in store purchase, I headed over to Anthropologie this afternoon before my time ran out.
I hit the sale racks, trying to make the most of my dollar. I had originally wishlisted this top in lilac online, but I love this version even more. It fits loose and covers my butt, so it'll be perfect to wear with skinnies and layer under lots of my neutral colored cardigans....
Frays and Folds Top, on Sale for $39.95
(sold out online)
I don't know why I though this top was silk and not cotton. At first I was a tad let down, then I put it on and was delightfully excited. The cotton gives the shirt a nice structure, especially at the shoulders. They aren't "strong" shoulders, but they hold a nice shape. I'm really excited about this top... I know probably 6 months too late as the military/utilitly trend was huge for fall, but oh well, better late than never.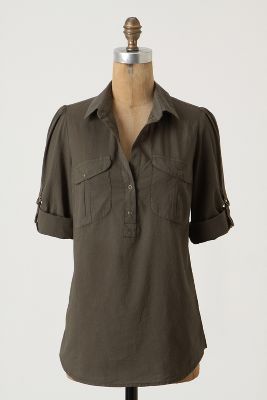 Simple Compositions Blouse $78
and yes, I gave in....
Whispering Vespers Sweater, $148
While the sweater is super light weight and a tad sheer, the cashmere is sooo super soft and snuggly. It was hard to swallow the price for a sweater that essentially looks like a sweatshirt, but the dolman sleeves are cute and I surprisingly don't own any cashmere sweaters. It's sooo soft! (did I say that already) I can't wait to wear this with my black skinnies, Ash Ono boots and some long layered necklaces.
Happy Monday Readers, stay warm out there!