There are tons of different ways to cope with grief and finding therapy... naturally, a fav of mine is to buy myself something shiny and new.
Well... maybe not always shiny, but something new for sure. Of course it doesn't solve any real problems, but the endorphin rush of swiping the magnetic strip on my credit card and hanging something in my closet is a sure fire way to bring a smile to my face, which at the beginning of this week was hard to find.
On Wednesday, I swung by Anthro to check out their giant Tag Sale. All sale items were an additional 25% Off. I originally went in with the purpose of picking up a gift for my Husband's Secret Santa. Sure, it's probably wrong... me doing the shopping for
his
Secret Santa... but I just had a better idea for his pick. He's actually doing the shopping for mine, so it's kind of fair in the end. Right?
Anyway, after getting the gift I decided to see if there were any deals I could take advantage of. The husband had told me twice to get something to make me smile, I wasn't going to make him say it a 3rd time!
I got a pair of Lolly foldover yoga pants in black for just under $30, which were something on my recent "NEED" list. I also grabbed a long sleeve tee for layering and a cute cotton chemise that I thought would double as a great bathing suit cover up in the Bahamas.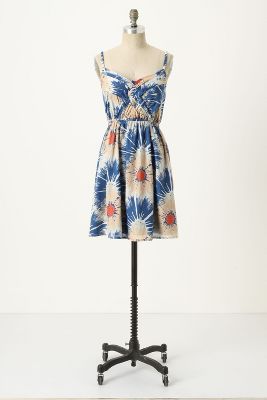 It's fully lined and comes to my knee, so it definitely has more of a 'cover up' look than 'nightgown'. I think it'll be perfect for stopping for lunch in between beach and pool time, instead of my usual gym shorts and tank top and it was only $22, instead of the full price $68. Upgrade.
I then walked away from the sale racks and was heading to the register when I spotted the ever loved Bianka Blouse, and with it, the new Vitalize Blouse... which is essentially the same top and just a new print. I immediately thought it'd look adorable with skinnies, riding boots, and my navy Breezy Ride Cardigan.
The only problem is getting the ruffly sleeves to fit inside the cardigan. Any tips??
I also grabbed this boyfriend cardi from Moth. The price was right (in terms of Anthro cardigans) and it's filling another void in my closet. Most of my cardigans are hip length, so adding a nice comfy long one for all these cold days we've been having was a must.
I've been wearing the Lolly yoga pants (no longer available online) non-stop... I'm in them right now! I'm still not sure if I'm going to keep the layering tee or the Vitalize blouse, but I'm glad I got them for the time being. I haven't shopped since
this Anthro sale
back in early November and I ended returning half of those items once they arrived.
Between buying these goodies, eating Christmas cookies, and sharing my thoughts here, I definitely am starting to feel more like myself. Thank you readers for your kind words of support on my last post. It's definitely been a difficult week, but it's nice to know I can come here and vent freely while being supported by such lovely ladies.