So, I
think
I'm going to make my OOTD posts , now that I have been
actually putting effort into my outfits and stopped looking like a bum
taking pics daily, a weekly post with a round up on Fridays. Yay? Nay?
However, since I mentioned that I scored my "New without Tags" Blooming Lattice Cardigan (for less than retail on eBay) I'm excited to report I'm wearing it today...
At first, I thought the cardi was cute, but I saw Kim's
review
about how it was cropped I kind of got turned off so I passed it over, even when seeing the quality detailing in store.
...but then Tien paired it with yellow and I totally changed my tune.
...then Kim went back and decided she had to have it... and like a follower so did I.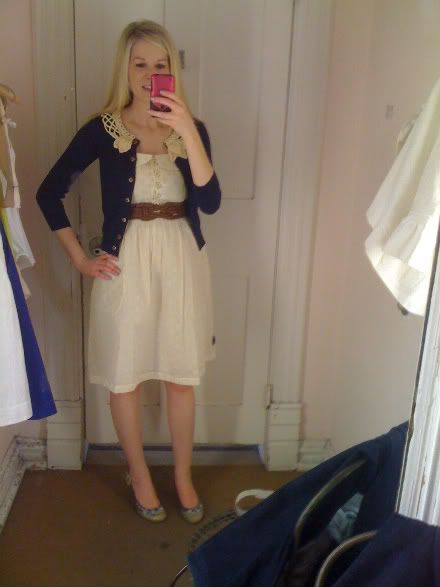 ... and finally Debye bought it "buy it now" off ebay (from the same listing I was "watching") and immediately I went back and pulled the trigger...
I'm so glad I did. Sometimes when things 'grow on me' it turns out my first instinct of 'meh' was right. Not with this cardi. The detailing at the neck really is substantial and since it's navy there are endless options of how I can make it mix and match.
I've still seen the cardigan in stores, but it is sold out online. Either call CS to track down a store that has your size in stock and have it shipped for free or check for listings on eBay . If you've been on the fence, you won't be disappointed!