... well, Bachelorette Wannabe minus being single and not having my husband and being forced to date douchey guys on television.... or meaning Bachelorette Fashion Wannabe.....
but I digress...
She had found the necklace as Ali Fedotowsky, also known as the ABC's newest Bachelorette, will be wearing on a few of her upcoming dates. She's wearing a Yellow Pendant necklace in this promotional shot for the show....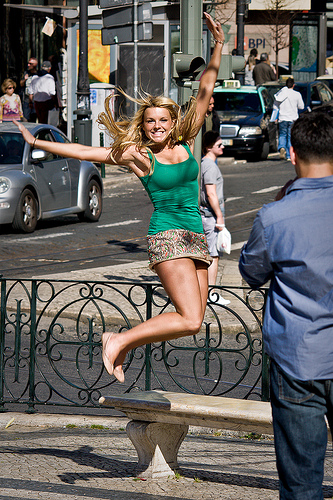 Also a fan of RitzyMisfit's stamped necklaces are previous Bachelorette Jillian Harris and Kendra Wilkinson...
Because it was Monday morning and I was only on my first cup of coffee, I felt compulsive enough to pull the trigger on this cute and (clearly Bachelorette) coveted necklace. It's priced at $30, which in my book, is pretty affordable for something so unique.
I ended up ordering the Plum colored pendant (shown above).
Brooke, the genius behind RitzyMisfit, allows the buyer to select the degree of "character" of the pendant's shape - "1" being closer to perfectly round and "3" being very "imperfect" or "rough". She also asks the buyer to select the degree of color you would like. "1" being a little and "3" being extremely saturated.
I chose 1 degree of character, you know since I'm too OCD to handle the "imperfect" circles, lumps, and bubbles. I then selected the 2nd degree of color, which is the same amount that Jillian has in her teal pendant shown above (or somewhere between a little and a lot).
I'll be sure to post a recap when it arrives.
Share your recent Etsy purchases in the comments - I'll wait to read them in the morning... you know, before I have my coffee and check my bank account balance....