Yesterday (Wednesday)
Kim over at Anthroholic
posted her weekly feature
Reader Outfits
. It was an especially inspiring batch and I had commented that I had been wanting to send a submission, but after seeing these ladies do up their Anthro items I felt I need to try a little harder.
Sweet Kim responded and told me to send them anyway... sooo, since I'd really love to send her my
LC inspired travel outfit
with the Liquid Bouquet Tank, that
obviously
is not here yet, I'm thinking of sending these over!
How I Styled my Anthropologie Dinnerware
That's right, the
WaxWork Plate
was the perfect fit for my little kitchen decor project.
photos via Amber's Notebook
I had asked where she found the cute crates and she said she saw them featured on
The Lettered Cottage
. After putting my search skills to work, I saw the 'Lettered
Couple
' purchased them through
Whitewash Sundries
and here we came full circle.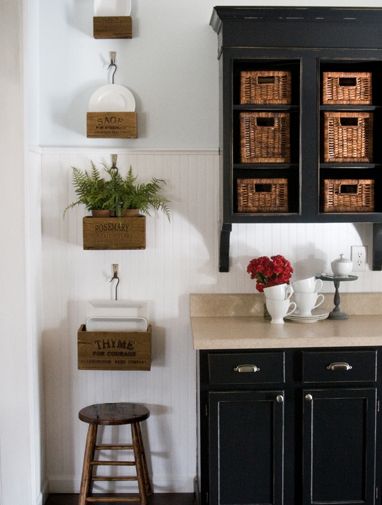 photo via TheLetteredCottage
I didn't have the room or need for all 4 crates so Sarah was able to create a custom listing for me for the crate sizes I needed. The 'Rosemary' crate is large enough to hold two $1 Ikea Plants, but the 'Sage' container threw me for a loop. I loved how 'The Lettered Couple' used to them to store and decorate with serving dishes and plates. Since the crate is only 8" wide, I was having a tough time finding the right plate to fit.
I had admired the color and pattern of WaxWork Plate for weeks at my local Anthro and when I saw it marked down to $3.95 last Tuesday I figured I'd give it a try. The website said it had a 7.5" diameter so I had high hopes and was THRILLED when it fit. Only problem was that it was virtually hidden. So I took the sheet of craft paper the Sales Associate had securely wrapped it in and stuffed the bottom of the crate to raise the dish... waaa laaa - PERFECTION!
Are you readers often inspired by other bloggers for your own home decorating ideas? Any one think I should submit this to Kim? HAHA!