For any Anthro Lovers out there, you are probably well aware of the massive sale that happened this morning. I noticed the
Point-De-Venise
Tank that
I had been admiring
was marked down from $68 to $39.95. I called the store this morning and put my size on hold. I ran over at lunchtime, got into the fitting room and....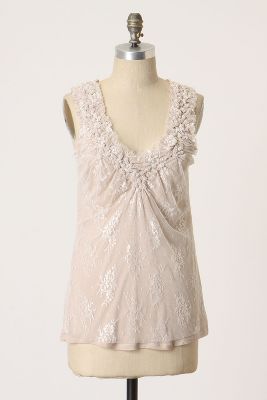 boooo hiss, when did XS sized clothes start being made to fit amazon women? This top isn't so much a top as it is a tunic (the length covers my butt). Which I actually wouldn't have minded if it was cut like a tunic and not like a top. The shoulder straps were too long, dropping the neckline too far down to be considered modest and the underarm holes were enormous.
The sad part is, all of the disappointment could have been avoided if I would have remembered that Kim did a review of this and had the same results. Like I previously mentioned, I looked right over this top on the web, and was surprised about how pretty the lace is in real life...
Even more disappointing, the
Liquid Bouquet Tank
was no longer in my store and the xs is backordered online... looks like I will need to recreate my "day two" look for my LA trip.
To lift my spirits the
WaxWork Dinnerware
I featured in my
Kitchen Cuteness
post was marked down. I picked up one small plate (for $3.95!) and I'm crossing my fingers it's going to work in a little kitchen decor thing I've got going on. If so, I'll be sure to post the results!
... I'm actually considering going back and picking up two full place settings for either our island or our 2 Chair Bar Height Outdoor Table.... hmmmm???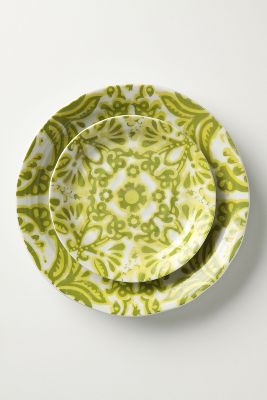 I also picked up 4 Tile Coasters for $1.95 each, that I just couldn't resist. I'm, again, contemplating going back for more to give out with Housewarming presents, they are just soo cute.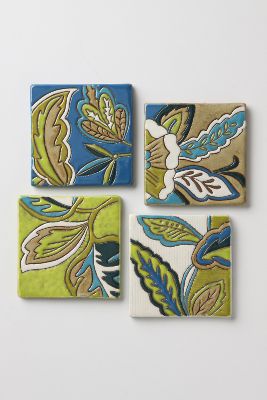 Anyone have any luck with today's markdowns? If you see the Liquid Bouquet Tank in xs in your store, please let me know!!