Yes, it's time for my obligatory Oscar Fashion post...
You've seen the photos (probably over and over), so here's to keeping it simple. My Top Two Best and Worst
The Best:
Cameron Diaz - I know some people think she was looking a little worse for wear, but I think the dress is perfection. Classic, sparkly, flattering, glamorous - it's my idea of an "Oscar" dress.
Elizabeth Banks - Not sure if I truly pick this as my 2nd best, but it was one of my favorites because... 1. the Color, the carpet was dominated by nudes/blushes/golds and jewel tones (sapphire blues and garnet reds) it was nice to see something else and 2. the Ruffles, they don't overwhelm or distract like they did on Vera Farmiga or Zoe Saldana. The dress is flattering to her skin tone and shape. It's pretty, but it doesn't take away from her beauty (like the dress selected for my 1st Worst)....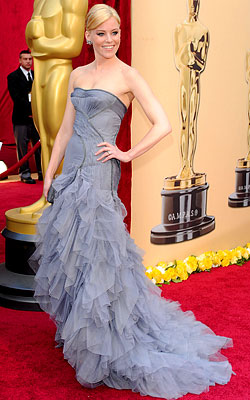 The Worst:
Charlize Theron (obviously - no words needed)
Zoe Saldana (yeah, maybe there were a few other really bad ones, but I hated this... the top, the bottom, the slit where's the cohesion Givenchy??)
As pointed out by my fab friend
Sarah over at SemiAutobiogRApHical
(so clever), I solely inspired Rachel McAdams GORGEOUS Elie Saab Couture gown... yup, little ol' me in my Donna Morgan Silk Chiffon number that wore to my rehearsal dinner...
Girlfriend knows a good look when she sees one.... (PS - Rachel would have made my Top Two, but I felt the need to add more pictures, so Elizabeth made the cut)
Ok Ok.... her's is a tad more glamorous, not to mention is a full length gown, and the grey/blue watercolor print is to die for...
If you like Rachel's dress (and or mine too) Donna Morgan is offering the same dress in a new print for this season, and I'm loving it! Such a cute dress for summer.... which brings me to my next SQUEE- Daylight Savings is Saturday!!
and ok, one more SQUEE - I'm still tallying the points, but it's looking like this chick is going to clinch her FFL* title!
*Fantasy - "FASHION" - League
All Oscar pics courtesy Just Jared.com - Elizabeth Banks Oscar Photo courtesy Instyle.com