I decided to run into my local Anthropologie at lunch yesterday (one - because it was so gorgeous out, I just
had
to get out of the office and two - because I wanted to check the stock of the new Tuesday mark downs). For those of you who are Anthro-illiterate, mark downs occur on Tuesdays and this past Tuesday there was a motherload.
You can catch a round up at Kim's blog "
Anthroholic
" or Roxy's "
Effortlessly Anthropologie
"....
I tried on the following items.... and here my super quick try-on thoughts....
(
for full comprehensive reviews check the blogs linked above)
Sale Items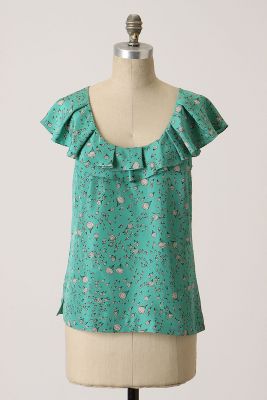 Was shorter than I expected in person and the wide scoop neck was too wide for my smaller frame. Maybe would fit nicely on someone with broad shoulders and short torso (??).
--------------------------------------------------------------------------------
Much longer than I had expected - hit somewhere past my hip, but just shy of tunic length. I love the fabric and fit around the bust (the lining is snug) which I liked. I wish it came in a lighter color so it would be easier to pair with jeans. Medium blue tops always confuse me in which jeans I should pair it with so I don't look like I'm wearing a blueberry jumpsuit...
--------------------------------------------------------------------------------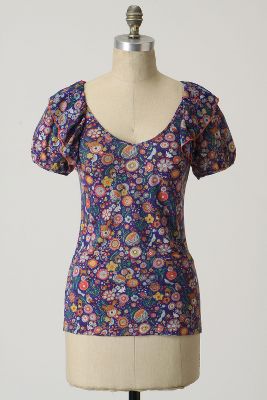 This is a shirt I would never look at twice online!
I love the color and mini-floral pattern. However, it's basically a glorified Michael Stars-esque v-neck tee-shirt with some ruffles on the shoulder. It had a flattering fit and I think if it's still there the next time I go back, I might pick it up. This isn't a new mark down, so I think a lot of people are passing right over it.
--------------------------------------------------------------------------------
Non-Sale Items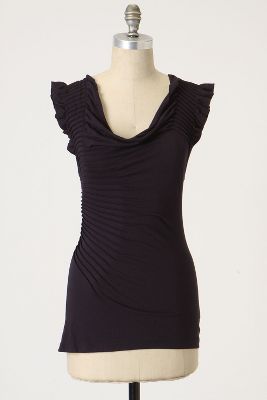 --------------------------------------------------------------------------------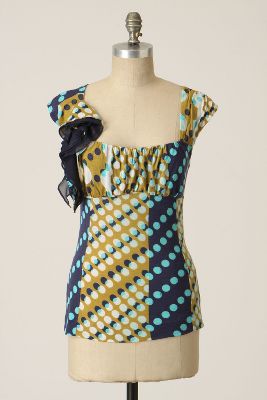 Wow... Kim wasn't kidding, this is VERY small in the bust area. Wearing my sockstuffed-like VS Bombshell bra isn't going to work with this top. Buyer beware to the busty broads!
--------------------------------------------------------------------------------
Moving on to today's little history lesson....
The college I went to has a somewhat respectable design and merchandising school (of which I did NOT attend). However because I was friends with girls who did, I learned the only major retailer HQ'd in Philadelphia is Urban Outfitters Inc. - which, most people know, owns Anthropologie.
I later realized, it turns out that my local Anthro is where it all began. It was the first Anthropologie store opened in 1992 right smack in the suburbs of Philadelphia. Which was surprising, especially if you ever saw their Flagship store in Rittenhouse Square Philadelphia, I for sure thought THAT is where it began, not in the suburbs....
Anywho,
Last week, Free People was featured on one of my many sample sale sites... Hautelook or Beyond the Rack ?? I can't even remember I belong to too many!
I went to scope out the merch, but before the sample sale opened there was a littler blurb about Free People's small beginnings and I learned a little more about my local retailer history...
Back in the 1970's, a young man named Dick Hayne planted a seed in the maze of streets and trees that make up West Philadelphia, Pennsylvania. He opened a store and called it Free People. Free People nurtured the young people who lived there and shopped there, who looked for a little of their own freedom in the clothes they wore.





As Dick's store grew from one to two, the name was changed from Free People to Urban Outfitters.






In time, his wife Meg came on to tend Urban's private label division, which supported product exclusive to Urban Outfitters. Demand was almost immediate and, to meet this overwhelming need, she and Dick decided to create a wholesale line. It was very well received, so much so that Dick separated the businesses. For a while, the wholesale line took on many personalities: Bulldog, Ecote, Cooperative, Anthropologie and then in 1984, new life was breathed into the name Free People. And that's us.






During 2001, we realized that it was really Free People that invoked some of our favorite images, those of femininity, courage and spirit. It was time to get back to our roots.






Free People shed its junior image and evolved into a more mature contemporary brand. This allowed twenty-something women to appreciate the line of clothing that catered to their intelligence, creativity and individuality, while keeping with its great quality and affordability.






And that's just who we wanted to reach: a 26-year-old girl, smart, creative, confident and comfortable in all aspects of her being, free and adventurous, sweet to tough to tomboy to romantic. A girl who likes to keep busy and push life to its limits, with traveling and hanging out and everything in between. Who loves Donovan as much as she loves The Dears, and can't resist petting any dog that passes her by on the street.






Today we draw, design, sew and buy for her. We offer her countless options within our own Free People collection, so that even if she takes her best pal shopping, they won't come out looking at all alike. And if she wants her colors and patterns all mixed up, that's even better, picking through our sweaters, knits, and skirts. And our design team is expecting to offer even greater variety in our intimates and accessories business.






Free People has three wholesale showrooms - in New York, Los Angeles and Chicago. Our sales team is in love with the Free People customer and constantly searches for accounts who believe in our aesthetic and want us to be part of their lives. Today, our line sells in 1,000+ specialty stores worldwide. And even though we have narrowed our department store relationships, business with Nordstrom and Bloomingdales happily continues to flourish. They have created in-store concept shops to enhance the beauty of the clothes themselves, and provide their customers with the quintessential Free People experience.






In them, our aesthetic is immediately apparent. There is a vibrant and cozy lounging area, where customers can sit back and soak up the lovely surroundings. And all of the Free People fixtures are handmade, right down to the crocheted hangers.
Our very first boutique opened in Paramus, New Jersey in the fall of 2002. We now have boutiques throughout the country and the number will continue to grow.






In October, 2004 Free People also launched a virtual journey through its world at FreePeople.com. The site has found great success with online shoppers across the country who are looking for a little something special in their experience. And now in the summer of 2008, this odyssey opens its next chapter with the launch of FreePeopleWholesale.com. Our newest creation will be the home for all our wholesale customers on the web, helping them merchandise assortments, place their buys, and keep tabs on orders and shipments. But also just feel a little more in touch as part of the Free People family.
I always thought Free People had that similar aesthetic that Urban and Anthro had, except with the vibes of Urban being all "hipster", Anthro being "whimsy and vintage", and Free People being "boho-chic" - but all being completely unique and of similar quality... but I was surprised to learn the connection of the labels and stores.
Did any of your once local boutiques make it big in the retail world?? Please share, I'm finding all this super interesting... (nerd alert!)