While my posts may somtimes make me seem like some shopaholic fashionista, I couldn't be further from that statement. I love following fashion (and celebrities!), but I'm far from fashion forward in my real life wardrobe.
I like to think of myself as a skilled online window shopper... You know admiring the pretty displays, but rarely pulling the trigger.
When I do shop in real life at brick & mortar stores, I tend to stock up on the classics - cardigans, v-neck sweaters, t's that can go from work to play, etc. When I see a super fun top (
like something that I would probably write about the awesome fun-ness on here
) I normally have to give myself a reason of why it's ok to spend the money on something so unique.
You see, to me, I don't like wearing unique things to death, because then its like... "ohh there's EHayes, wearing
that
top again".... you know?.. So I first try to think of what special occasion or event I could wear said top (or dress, or shoes, etc) to, and then how I could re-work it into my wardrobe for other ways to wear again.
I recently posted a
Real Deal and Awesome Steals post
about the blogger loved Anthro Free Flow top.... and you know what readers, it totally grew on me!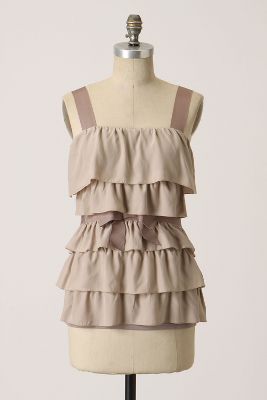 Now, since this top fits into the "unique" category for me (because I wouldn't feel right wearing it to work more than once a month - due to its memorability)
(yep, I like to make up words here at Strawberry Swing and Other Things.. deal with it),
I first need to come up with an event it would be perfect for - which would be my Annual Girls Day Out... or affectionately known by the girls as "Wine Day".
This will be the 3rd spring that I have organized a fun little trip for my college girlfriends and I to visit some of the localish wineries and do some heavy day drinking classy wine tastings.
So back to the perfect outfit. Like most people I build around a specific piece while keeping in mind what is functional for the event. So here are my key pieces to use:
Free Flow Tank: although I am willing to substitute other cute ruffly Anthro tanks
Jeans: I chose cropped ankle jeans because my skinnies are for "boot" wear only (due to the length) I feel like I'm still getting a stylish vibe from the matchstick look without looking ho-hum in my old go-to bootcuts...
Flats: We do a decent amount of walking and standing, not to mention this is rural south eastern Pennsylvania, I would definitely be getting a side eye if I showed up in a killer pair of heels.
Cardigan: It'll be Spring, so while (hopefully) warm, it won't be hot. Dressing in layers is always key.
So I decided to make some
Polyvore
sets and visually "try on" these mix and matched outfits. I've substituted the cardigans, jewelry, and flats. I also decided to switch it up with the Anthro top in some.
Option 1 - Free Flow Tank
Option 2 - Free Flow Tank
Tank Option 3 - Balletomane
Option 4 - Tutu Tank